Agriverde – Cantina (Organic)

Overview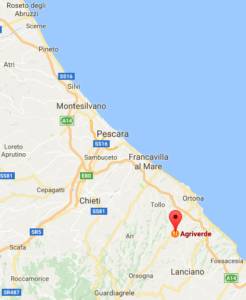 The history of Agriverde overlaps with the history of one of the oldest families of winemakers in Abruzzo: the Di Carlo Family. Proud winegrowers and tenaciously tied to the spirit of their land, Di Carlo's were wine-producers since the early  XIX century: in a letter preserved in the company, we can read Camillo Di Carlo announcing their  first exportation. Since then, the Di Carlo Family is always passing down his passion for wine from father to son, a human and professional legacy that still represents a precious witness to bequeath to future generations. AGRIVERDE mission is to produce superior wines preserving what we inherited from Nature, in order to hand it down to future generations. AGRIVERDE philosophy is centred on the respect of Nature and Man himself, that is why the property is all organic farming and biodynamic.
Agriverde wines divulge the culture of "terroir" melting the concepts of Climate, Geology, Topography and Soil.
The recovery of natural yeasts, going away from the standards of aromatic yeasts, gives to our wines a taste intimately tied to the territory, restoring the centrality of the natural element and of the features of the belonging "terroir".
The Winery
In 1988 – several years in advance rispect of the first european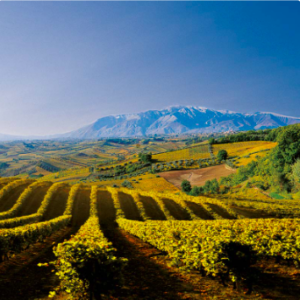 regulation about organic agricolture – Giannicola Di Carlo converted his 65 hectares to organic farming, attracting the attention of leading industry experts also for its innovative ecological  farming practices: green manure leguminous plants, Sempio, which through the nitrogen-fixing (tubercles radical-radical micorizzati on the apparatus), are able to fix atmospheric nitrogen in the soil, avoiding the use of synthetic chemical fertilizers, or the mating disruption technique based on pheromones traps that, confusing the parasites, avoids mating and reproduction.
Certified by I.C.E.A. since 1991, Agriverde was one of the first wineries in Italy to believe and bet on a new kind of production: ethical, eco frinedly, especially healthy.
As a pioneer in research and innovation, Agriverde Bio lines are also certified BIO-VEGAN because they are produced without animal products, either in the vineyard or in the winery: to fertilize the most of our vineyards we use seaweed and humic acids and – in clarification processes – we do not use Albumin and Casein (substances derived from eggs and milk). With dual certification we guarantee a very low risk of food intolerance: for the welfare of the people and to preserve the health of the Planet.
Biotechnical principles are the heart of the newly-designed Agriverde Winery, built in perfect harmony with the landscape.
In perfect harmony with the landscape, forms and volumes conjure up the Sky, the Earth and the Sea, where AGRIVERDE lives in the gentleness of its hills, between Adriatic Sea and the Mount Maiella. We only ever harvest our grapes by hand to ensure that just best bunches are picked.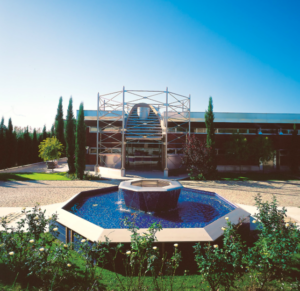 We prefer hi-tech in our wine cellars to ensure we have complete control over all production phases. Costant quality over time for each single bottle. Our wines are stored in temperature-controlled cells to achieve top quality during bottle ageing. In our innovative cellar, built by the rules of Bio-Architecture, the famous grapes from Abruzzo become superior wines: from Montepulciano d'Abruzzo grape arises the sweeping Plateo, a diamond among the  Italian wines, rewarded for ages with  famous national and international awards:  on the  guide book  of "Gambero Rosso",  of the Association of Italian sommelier, and the one of  Luca Maroni; then there is the strong Solarea, unbelievable for its good relation between quality and price, the refined Riseis di Recastro with its modern taste, to finish with the organic  wine Natum, fruit of the passion of Agriverde for organic cultivation and respect of environment.
---
"Finamore" Montepulciano d'Abruzzo

Varietal Composition: 100% Montepulciano
The Vineyard: Riseis di Recastro
Production Area: Caldari di Ortona
Exposition: South- South East
Altitude: 250m above sea level
Growing System: Abruzzese bower and spurred cordon rows
Density: 1,800 grapevines per hectare on bower and
4,000 on cordon row
Average Production: 10 tons per hectare
Tasting Notes:
Color: Deep ruby-red with violet highlights
Nose: Refine and complex, it shows plums, currant, black
licorice, darck chocolate and fresh violet flowers.
Taste: Full-bodied and soft, with lots of tannins, nice acidity and a very long finish.
---
"Finamore" Trebbiano d'Abruzzo

Varietal Composition: 100% Trebbiano d'Abruzzo
The Vineyard: Tenuta Finamore
Production Area: Crecchio (CH)
Exposition: South- South West
Altitude: 250m above sea level
Growing System: Abruzzese bower
Density: 1,800 grapevines per hectare
Average Production: 11 tons per hectare
Harvesting Period: First week of October
Tasting Notes:
Color: Straw yellow with greenish shades.
Aroma: Typical winey with delicate scents of fruit.
Flavor: Dry and velvety.
Pairing: Seafood starters, delicate first courses, and cheeses.
Serving temperature: 8-10° C.
---