Guerrieri Rizzardi Azienda Agricola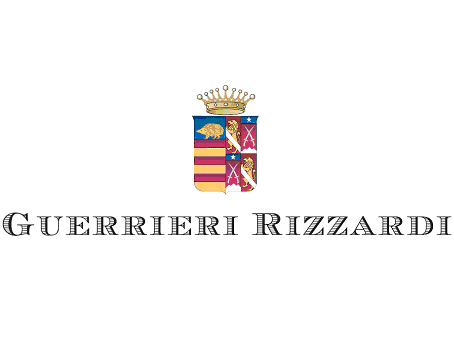 Guerrieri Rizzardi, the historic wine-growing estate in the Veneto region, was established with the union of two ancient Veronese wine making families of substance: the Counts Guerrieri, owners of a centuries-old estate with vineyards and cellars in Bardolino, and the Counts Rizzardi, who acquired their vineyards in Negrar back in 1678, building the historic cellar of Pojega shortly thereafter.  The small estate of Dolcè in Valdadige has always belonged to the Guerrieri estate of Bardolino.  The Soave estate, with its vineyards and cellar in Costeggiola, at the center of the Classico area, was purchased in 1970.
Today, the estate is under the ownership of the Rizzardi family.  It remains a family business with vineyards in the four Classico areas with a thriving production of Bardolino, Valpolicella, Soave, and Valdadige.  Guerrieri Rizzardi is based in Bardolino, housed in the ancient building belonging to the Guerrieri family and its ancestors since 1450.  All the grapes come from estate vineyards and the wines are vinified and bottled in the cellars situated in each appellation.
At Guerrieri Rizzardi, the relationship between the land, heritage, and tradition has, for many years, molded their philosophy, yet they have never lost sight of innovation in their quest to produce a better bottle of wine.
---

Costeggiola Soave Classico DOP
Location: Soave is one of the world's most famous white wine growing regions. The single vineyard Costeggiola is situated atop a hillside overlooking the Soave Classico region.
Soil: Stony volcanic soil
Grape Varietals: Garganega and Chardonnay
Plantation Density: 2,500-4,000 vines/hectare
Average Production: 10 tons/hectare; 4 tons/acre
Harvest: Sourced from only the most mature vines on the estate, the grapes are harvested and de-stemmed at the peak of ripeness
Vinification: After pressing, the Costeggiola wine is left to ferment for 3-6 months in cement vats and then age in stainless steel vats without the influence of oak barrels.
Serving Suggestions: This wine is dry and perfumed, and should be served not too chilled (12-14° C / 54-57° F) with appetizers, white meat, fresh or smoked seafood, shell fish, goat cheese, or mild curry dishes.
Cellaring Potential: Up to 7 years
---

Pinot Grigio
Location: The grapes are cultivated on several hectares of vineyards on hilly land in the eastern part of the Verona wine area.
Harvest: The grapes are harvested in the coolest hours of the day, in order to retain the aromatic varietal freshness.
Soil: Predominantly deep clay soils with ideal sun exposure
Grape Varietals: 100% Pinot Grigio
Plantation Density: Between 2,500-5,000 vines/ha
Training: Simple guyot, simple and double pergola
Vinification:  Alcoholic fermentation after pressing of the de-stemmed grapes lasts for 10-12 days at 15-16°C in stainless steel temperature controlled tanks.
Aging: Several months in stainless steel tanks
Production: 60,000 bottles
Alcohol Content: 12.82%
Total Acidity: 5.54 g/l
pH: 3.45
Residual Sugar: 0.8 g/l
Tasting Notes: Pear and white peach aromatics on the nose, and a richness on the palate.  Creamy texture and good concentration of ripe stone fruit balanced by freshness.
Food Pairings: Serve as an aperitif wine with dim-sum, spring rolls, grilled fish, etc.
Cellaring Potential: 2017-2020
---

Tacchetto Bardolino Classico DOP
Location: A single vineyard wine which is only produced by Guerrieri Rizzardi. The grapes come from the Tacchetto vineyard in the village of Cavaion below Monte Bald; a breezy, airy location that is well known for the quality of its fruit.
Soil: The vineyard has its own unique pebbly and clayey soil of glacial morainic origin
Grape Varietals: Corvina, Rondinella, and Merlot
Plantation Density: 2,000-5,000 vines/ha
Production: 12 tons/hectare; 4.8 tons/acre
Vinification: After picking, the grapes are destemmed and crushed, followed by alcoholic fermentation in stainless steel vats for 7 days at a controlled temperature of 25°C-30°C.  After pressing, malolactic fermentation commences.
Maturation: 3 months, on lees, in stainless steel and vitrified cement vats
Tasting Notes: This single vineyard wine has a rich perfume of black cherry and spices.
Serving Suggestions: We recommend serving the Tacchetto slightly chilled (15-17°C or 59-63°F) with seafood, pasta dishes, or roasted white meats.
Cellaring Potential: Up to 3 years
---

Pojega Valpolicella Classico Superiore DOP Ripasso
Location: The Pojega vineyard in Negrar is situated near the celebrated gardens created by Conte Antonio Rizzardi in 1796.  Ripasso is a strictly controlled, traditional, and unique wine-making method crafted only from grapes grown in Valpolicella.
Soil: Red clay and silt with pebbles
Grape Varietals: Corvina, Corvinone, Rondinella, and Molinara
Plantation Density: 1,600 vines/ha
Vinification: The grapes are first picked, destemmed, and crushed.  Alcoholic fermentation follows in stainless steel vats for 9 days at a controlled temperature of 25°C-30°C.  After pressing, malolactic fermentation commences. During the winter, Ripasso wines are created through a secondary fermentation over the pressed skins of Amarone grapes (Ripasso, meaning to "repass").  This process gives the wine more structure, color, and complexity.
Maturation: After the secondary fermentation, the wine is aged for 12 months in 25 hl French and Slovenian oak barrels
Serving Suggestions: The Pojega Ripasso is dry and generous, and is recommended to be served at a temperature of 16°C / 60°F with roasted meat or game dishes such as stuffed roast veal or steak tartar.
Cellaring Potential: Up to 5 years
Production: 11 tons/hectare; 4.5 tons/acre
---

Amarone 3 Cru
Grape Varietals: 80% Corvinone/Corvina, 10% Rondinella, and 10% Barbera.  The grapes are sourced from Guerrieri Rizzardi's 3 single vineyards: Calcarole, Rovereti, and Pojega
Vinification: Directly after harvest, the grapes are air dried through a process called "appassimento", which allows them to shrivel into raisins.  This concentrates the sugar and flavors in the grapes, producing a distinctive and full-bodied wine well-suited to aging.
Alcohol Content: 15.5% (higher sugar content of the dried grapes)
Winemaker Notes: "Aromatic, with ripe, dark fruit alongside sweet spice, leading to a palate that is full-bodied but not heavy.  The fruit carries through with ripe dark berries, sweet raisin and subtle oak. Well structured and maintains good freshness; decant an hour before serving."
Food Pairings: Beef ribs, venison, pheasant and Italian cheeses such as Pecorino and Parmesan.
Serving Temperature: 16-18oC
2012 Reviews: "Opens up beautifully with ripe and pronounced notes of raspberries and cherry fruit. Elegant and sensual palate with juicy tannins, complex spices, and a long, fresh aftertaste. Stunning!"-95pts, Decanter (Platinum Medal, 2017 Decanter World Wine Awards)
---

Villa Rizzardi Amarone Classico
Location: Amarone della Valpolicella is a rich, dry Italian red wine from the Veneto region
Grape Varietals: Primarily Corvina
Vinification: Directly after harvest, the grapes are air dried through a process called "appassimento", which allows them to shrivel into raisins.  This concentrates the sugar and flavors in the grapes, producing a distinctive and full-bodied wine well-suited to aging.
Tasting Notes: Amarone della Valpolicella is rich, dry, and best paired with very rich foods, due to its strong flavor profile, robust nature, and high alcohol (minimum 14% abv).
Cellaring Potential: It is often said that you can safely forget an Amarone in your wine cellar. Even average Amarones can be aged for 10-15 years. Depending on the vintage and aging technique, wines of exceptional quality can be enjoyed up to 30-50 years after bottling!
2009 Reviews: "…Thick streaks of pressed blackberry, cured meat, teriyaki and barbecue smoke run though this fleshy Amarone. The finish is dense, soft, chewy and slightly sweet."-89pts, Monica Larner, Wine Advocate
---

Calcarole Amarone Classico della Valpolicella
Location: This Amarone comes from a hillside vineyard in Calcarole, in the municipality of Negrar.
Vines: The terraced hill is divided into 6 different plots planted with vines between 1986 and 2000, with 4,000 vines per hectare. There are currently around 4 hectares of vineyards, planted to two-thirds with Corvina and with a bit of Barbera, Corvinone, Rondinella, and Sangiovese in the remaining third.  There are approximately 16,000 vines planted.
Soil: Clayey and sandy, strongly calcerous, rich in calcium.  The subsoil is predominantly limestone, hence the name "Calcarole."
Harvest: Corvina, Corvinone, Sangiovese, Barbera, and Rondinella grapes are carefully selected by hand into boxes.  These very beautiful grapes benefit from a good start and quick drying due to the warm and dry climate.
Vinification: The wine is fermented in stainless steel tanks, followed by 3 years maturation in oak barrels; the first year is spent in 225 L oak barrels, and the next 2 years in a 2,500 L cask.
Serving Suggestion: This wine expresses great complexity and finesse; it requires a few hours of decanting and an ideal serving temperature of 14-16°C.
Cellaring Potential: At least 15 years
2014 Reviews:
**Prized BEST RED WINE OF ITALY by the Win Guide Vini D'Italia 2014 Gambero Rosso Editore**
Tre Bicchieri-Gambero Rosso 'Vini d'Italia' 2014
2009 Reviews:
"A well-knit red, with lightly chewy tannins framing a subtle flavor range of plump cherry, black licorice drop, fresh forest floor and espresso crème. A cocoa powder hint mixes with the sweet fruit on the finish."-91pts, Wine Spectator
"…opens to dark fruit layers, juicy berry flavors and loads of exotic spice and tobacco…bright intensity, balanced acidity and pretty end notes of pressed rose and violet." –91pts, Monica Larner, Wine Advocate